TOP +++ AFFICHE Poster ART NOUVEAU MAGICIEN CHAPEAU LAPIN Magician Hat Rabbit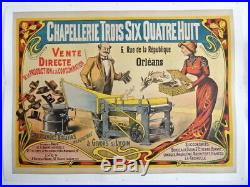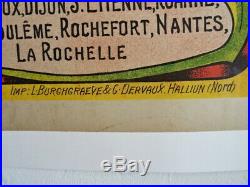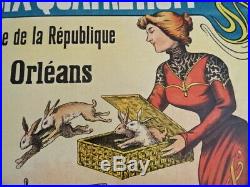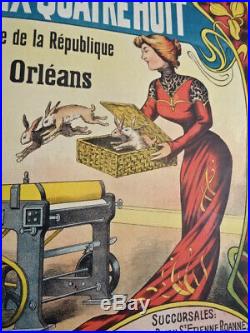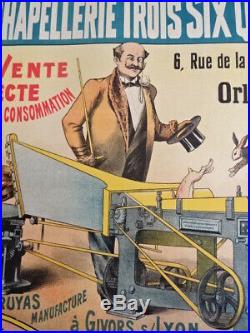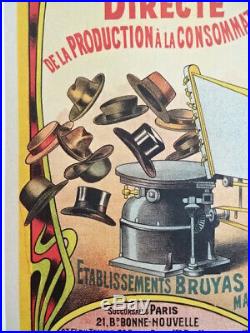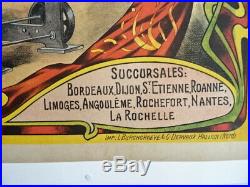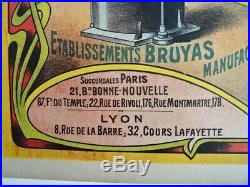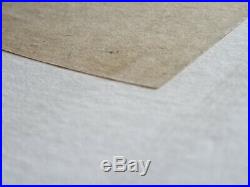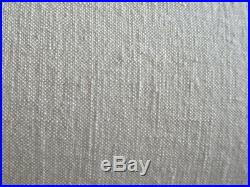 Authentique affiche ancienne - Magnifique! Old authentic poster - Magnificent! - - - QUELQUES INFORMATIONS Some informations - Les couleurs sont très vives - L'illustration est superbe - Un tour de magie inversé : Les lapins sautent dans la machine qui les transforme en chapeaux. The colors are very vivid. A reverse magic trick : The rabbits jump into the machine which transforms them into a hat - L'affiche a été préservé des déchirures : Elle a été collée sur un papier spécial - Le papier spécial a été collé sur un tissu à base de coton et de lin. He poster has been preserved from tears: It has been pasted on a special paper - The special paper has been pasted on a fabric made from cotton and linen. HALLIUN (NORD) Printer - Dimensions de l'affiche originale : Environ 121 cm x 89 cm Dimensions of the original poster : Around...
Cm - Dimensions de l'affiche avec l'entoilage : Environ 129 cm x 97 cm. Poster dimensions with the fabric.
Cm - Poids : Environ 650 g Weight : Around... G - Etat exceptionnel - Quasi NEUVE - Objet ancien avec usures d'usage - Regardez bien les photographies Exceptionnal condition - Quite Unused - Old item with wears of use - Look closely at the pictures - Observations : L'affiche d'origine est dans ses dimensions originales - Aucun découpage ou manque Remarks.
The original poster is in its original sizes - No cutting or missing. Expédition : L'affiche sera roulée (pas pliée) dans un gros emballage car le tissu ne permet pas de le rouler dans un petit diamètre Expedition.
The poster will be rolled (not folded) in a large packaging because the fabric does not allow it to be rolled into a small diameter. - N´hésitez pas à me faire une proposition correcte , je suis vendeur! L'item "TOP +++ AFFICHE Poster ART NOUVEAU MAGICIEN CHAPEAU LAPIN Magician Hat Rabbit" est en vente depuis le vendredi 20 mars 2020.
Il est dans la catégorie "Collections\Calendriers, tickets, affiches\Affiches pub\ anciennes". Le vendeur est "avs45abp" et est localisé à/en BUCY LE ROI, Centre.
Cet article peut être livré partout dans le monde.
Impression: Couleur
Dimensions: 129 x 97 cm
Objet modifié: Oui
Epoque: Antique (XIXème)
Pays de fabrication: FRANCE
Description de la modification: L'AFFICHE A ETE ENTOILE The poster has been glue on paper and fabric
Thème: FABRICANT DE CHAPEAUX Hats manufacturer