AFFICHE ANCIENNE ORIGINALE SCOOTER TRIPORTEUR Paul VALLEE VESPA LAMBRETTA YDRAL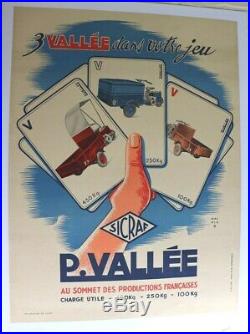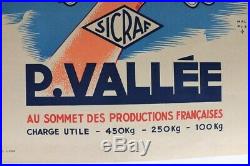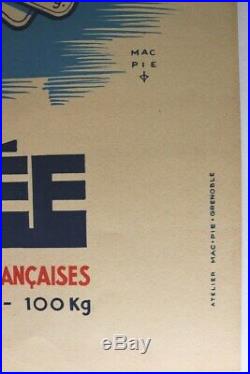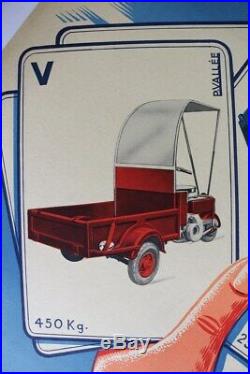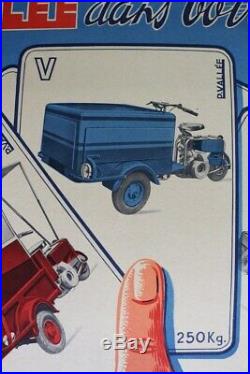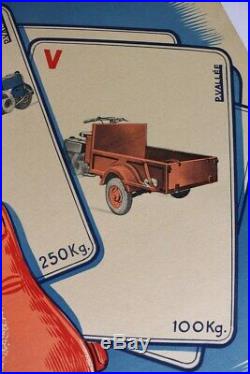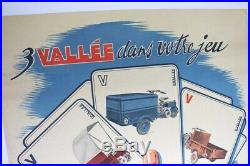 PAS DE COPIE CHEZ NOUS NO COPY we sell only original period posters. ON LINEN , LINEN BACKED IN OUR OWN STUDIO. Envoi en rouleau sécurisé assuré pour la valeur. We send in secured roll insured for the value. Comprendre 3 Vallée dans votre jeu. = 3 Valets à la belote.. Il est écrit sur l'affiche. 3 Vallée dans votre jeu. Au sommet des productions françaises. Pour la sauvegarde de vos affiches. (exemples photos de notre travail et devis sur demande).
A Brief History of SICRAF. F (Societe Industrielle de Construction et de Recherches Automobiles de France) Rue Sadi Carnot, Aubervilliers (Seine). The firm produced commercial triporteurs, light motorcycles, microcars and two-stroke scooters using 125cc and 175cc engines from Aubier-Dunne and Ydral. The early scooters were very closely styled on the early Lambretta, but there was apparently no contract with the Italian firm.
The first of his scooters, the S. 149 appeared at the 1949 Paris Salon fitted with a 125cc Aubier-Dunne 3-speed engine and bore a resemblance to the Lambretta. The version presented at the 1952 Salon had a 4-speed Ydral 125, and the following year the B. 54 model appeared in grand tourisme and grand luxe versions with 125 or 175cc engines. Later scooters were of a different style with two-tone paint, and are rare collectors items.
The 1949 scooter evolved into a three-wheeler utility (a Lastenroller). In 1952, in addition to the scooter at the Salon was the Chantecler, a very cute microcar.
This did not enter production until 1956, and only around 200 were produced. Fine examples change hands for considerable sums.
Paul Vallee died unexpectedly on April 3, 1957. Paul Vallée (19521954) Société Colas (19541957). Paul Vallée gründete 1952 in Blois.
Das Unternehmen, das seinen Namen trug, zur Produktion von Automobilen. 1954 übernahm die Société Colas aus Blois die Produktion. Insgesamt entstanden etwa 200 Fahrzeuge. Zunächst entstanden Dreiradroller und Lastendreiräder. 1952 erschien ein kleiner Sportwagen mit drei Rädern.
War vor dem einzelnen Hinterrad eingebaut. Es gab dieses Modell als Einsitzer und Zweisitzer.
1956 folgte das weniger sportliche Modell Chantecler , das wahlweise von Ydral-Motoren mit 125 cm³ und 5 PS oder 175 cm³ und 8 PS angetrieben wurde. Constructeur anglais, établi à Londres de 1914 à 1923. Issu de la fusion de Sunbeam. Constructeur américain en 1896 ayant fusionné avec Yale (moto).
(Centre d'Études de Moteurs à Explosion et à Combustion), racheté par Ratier. Constructeur italien de 1937 à 1984. Centre de montage et de récupération. Fusionné pour devenir Auto Union. Excelsior Motor Manufacturing & Supply Company.
(la première moto de série). (seulement 5 ou 6 concept bikes signés Lamborghini réalisés par un fournisseur français en 1986).
(moteur 5 cylindres en étoile, tournant dans la roue avant). (motoriste des moteurs pour plusieurs marques).
Né d'une scission d'un frère Benelli, puis refusionné à Benelli. Le premier double arbre à cames en tête. L'item "AFFICHE ANCIENNE ORIGINALE SCOOTER TRIPORTEUR Paul VALLEE VESPA LAMBRETTA YDRAL" est en vente depuis le jeudi 3 octobre 2019. Il est dans la catégorie "Collections\Calendriers, tickets, affiches\Affiches pub\ anciennes". Le vendeur est "posterstudio-france" et est localisé à/en Atelier Affiche Moulin port Salomon DAMIATTE. Cet article peut être livré partout dans le monde.
Dimensions: 60 x 80 cm
Impression: Couleur
Epoque: Antique (XIXème)
Thème: Transport