AFFICHE ANCIENNE ORIGINALE CIRQUE CIRCUS MAX SCHUMANN SINGE chimpanzé BOXE 1920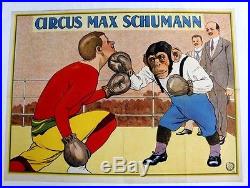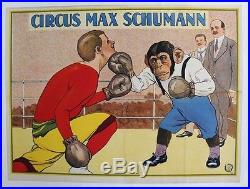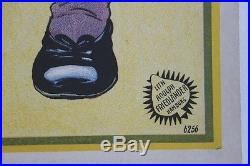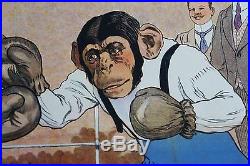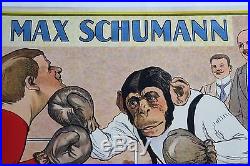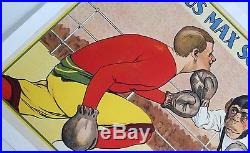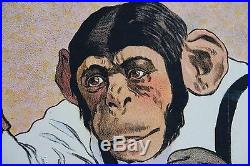 PAS DE COPIE CHEZ NOUS NO COPY we sell only original period posters. ON LINEN , LINEN BACKED IN OUR OWN STUDIO. Envoi en rouleau sécurisé assuré pour la valeur.
We send in secured roll insured for the value. IL EST ECRIT SUR L'AFFICHE. Pour la sauvegarde de vos affiches. (exemples photos de notre travail et devis sur demande). ET DES PHOTOS D'AUTRES AFFICHES. Que nous n'avons pas à la vente... Circus Schumann was a very old German Circus. In 1916 they moved to Denmark with their 70 horses, because of the fear of wold war I. They stayed in Denmark until their last season back in 1982.
Schumann was graded as the Danish national circus and was countet as the greatest circus in scandinavia. There are two members of the proud circus dynasty left.
Mr Benny Schumann now performing as a multi artist in Denmark and Katja Schumann running Circus Big Apple together with her husband in USA. The program period runs from 1916 to 1969 and again from 1977 to 1982. The last period they were touring as a tent circus.
Circus performer and director Max Schumann, part of the famous horse training dynasty, died in Denmark on December 28, aged 88, having retired from the ring only last summer. The whole family has been noted for bareback riding and training over the generations and Max, born in Sweden in 1916, was no exception, like his brother Albert and sister Cecilie. The Schumann family had been linked to the Bertram Mills Circus at Olympia since 1921 and for several years supplied horse acts there before the Second World War. Max married Vivi Mikkelsen, the daughter of a Danish veterinary surgeon, in February, 1946.
Vivi and her sister-in-law Paulina Schumann joined him and his brother Albert in classic dressage riding acts, which became famous throughout Europe and which they brought with their huge stud of horses and ponies to Tom Arnold's London Christmas circuses at Haringey Arena from 1948 for eight consecutive winter seasons. Max and Vivi Schumann were also presented by Tom Arnold in his Knights of the Ring circus stage show at the Palace Theatre, Manchester and Empire, Edinburgh in the winter of 1953/54. Albert, Paulina and Max Schumann featured in the Belle Vue Circus at Manchester in the winter of 1956/57 and the following winter the family took the Schumann horses back to London, appearing each winter with splendid acts, both dressage and liberty numbers, at the Bertram Mills Circus in Olympia Grand Hall until the show closed in 1967. Without the possibility of a similar long winter engagement and with diminishing profits, things looked bleak. The family made the decision to close the circus and end a tradition lasting more than 100 years. Max ran a livery stables for a while but in 1977, assisted by his children Katja and Philip, he revived the family title with Circus Max Schumann, a tenting show seating 2,000 people, which he ran until 1982. In 1992, at the age of 76, Schumann was enticed back into the circus ring, joining his daughter in presenting and training horses.
Katja's children Katharine and Max and Laura, Philip's daughter, have all appeared in the ring there, carrying the Schumann traditions into the sixth generation. Throughout his career, he was somewhat overshadowed by his handsome brother Albert and the latter's lovely wife Paulina in the circus ring but it was Max who was responsible for much of the initial training and rehearsal of the horses which they both presented with true'Schumannship'throughout their lives. L'item "AFFICHE ANCIENNE ORIGINALE CIRQUE CIRCUS MAX SCHUMANN SINGE chimpanzé BOXE 1920" est en vente depuis le samedi 1 avril 2017.
Il est dans la catégorie "Collections\Calendriers, tickets, affiches\Affiches pub\ anciennes". Le vendeur est "buybuyzoe" et est localisé à/en Atelier Affiche Moulin port Salomon DAMIATTE.
Cet article peut être livré partout dans le monde.
Epoque: Rétro (1900-1979)
Dimensions: 95 x 72 cm
Impression: Couleur
Thème: Transport